As Mike updates you on the Phillies position by position, I'll be previewing their hated rivals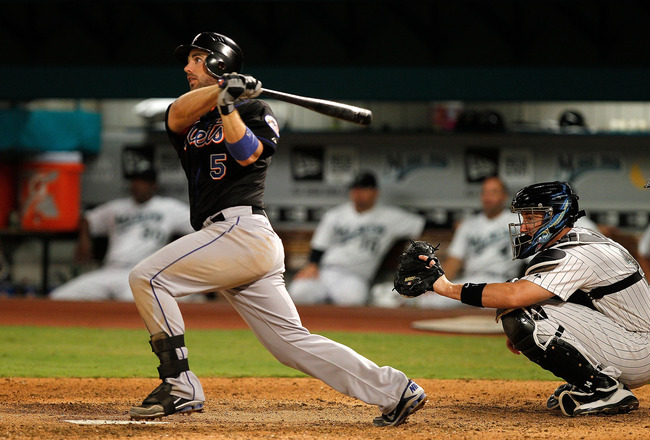 in the NL East, as well as the NL Central and West divisions, and the AL as a whole.
Without further ado, let's take a look at the upcoming season for the New York Mets.
This season will be a trying time for the Metropolitans, as they must deal with free agent departures while being in the midst of an enormous financial crisis involving owner Fred Wilpon.
Obviously, the most important thing to happen to the Mets this offseason was the loss of their superstar shortstop, Jose Reyes — more on him later. The team must find a way to replace his production following a career year in which he lead the NL in batting average.
Without Reyes, the Mets' lineup is significantly worse. The team, which finished third in the National League in both triples and stolen bases last year, will have a tough time replicating that success in 2012 without Reyes' speed. The Mets' infield, from left to right (no pun intended) now looks like this: David Wright, third base; Ruben Tejada, shortstop; Daniel Murphy, second base; Ike Davis, first base.
Wright and Davis battled with injuries last year, with Wright playing in just 102 games and hitting 14 homers while posting a career-low AVG/OPS line of .254/.771 and Davis playing in just 36 games before an ankle injury abbreviated his season.
Tejada and Murphy are very inexperienced in their positions, but are the Mets' best options for the up-the-middle double play combination heading into 2012. Tejada has just 69 games played at shortstop in his two Major League seasons and has a .966 fielding percentage to show for it — not too bad, but definitely not good. Murphy, primarily a first baseman, will shift over to second for the season, a position where he owns just 24 games of experience. For these two young players, this season will be a learning experience.
In left field, Jason Bay will look to return to form following two subpar seasons in the Big Apple. After his 36 home run/119 RBI season in Boston in 2009, the Mets signed the slugger to a 4-year, $66 million contract. Halfway through that deal, he has yet to match those totals from the '09 season — not in one year, but in the past two seasons combined. With Carlos Beltran gone, Bay will have to provide some pop in the Mets' lineup or their power numbers will suffer.
In center field, newly-acquired Andrés Torres hopes to replicate the success he had in 2010 that earned him a starting role on the World Series Champion San Francisco Giants team. That year, Torres clubbed 16 home runs and 43 doubles. Last season, he only hit a quarter of his 2010 total in home runs and just over half the amount of doubles as he did in the previous season.
In right field, second-year player Lucas Duda may be one of a select few bright spots heading into this season for the Mets. Duda had a good rookie season last year while splitting his fielding duties between right field and first base due to Davis' absence. He batted .292, good for third on the team last season.
The Mets' projected rotation for 2012 looks like this: Johan Santana, Mike Pelfrey, Jon Niese, R.A. Dickey, and Dillon Gee. Fierce. Not really, this is certainly the weakest rotation in the NL East, as the Mets will rely on the oft-injured Santana to last them the whole year, something he hasn't done since 2008. They'll also count on the 37-year-old Dickey, a knuckleballer, to stay in top form, which, given his age, will be a burdensome task.
First-year Mets Jon Rauch and Frank Francisco lead the Mets' bullpen, which finished second-to-last in ERA last year. Rauch owns a career 3.82 ERA and will serve as the setup man for the new closer, Francisco. Francisco pitched to a 3.55 ERA last year in the closing role in Toronto and earned 17 saves. This year, look for the Mets to finish towards the bottom of the pack once again in bullpen ERA.
Young backstop Josh Thole will hold down the fort behind the plate and has the duty of catching this less-than-stellar staff. Thole had an average year offensively last year, knocking in 40 runs and batting .268; his defense, however, is promising. Thole has thrown out 35.4% of potential base stealers since 2010.
No matter which way you look at the Mets going into this season, it's not pretty. The Mets won 7 of 18 games played against the Phillies last season . Bet on them to play like they did last year — probably even worse — and finish in the cellar of the NL East.