The theme of this season for the Phillies seems to be question marks.  There is a big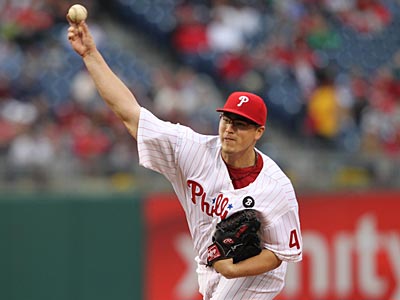 question mark next to the return dates of Ryan Howard and Chase Utley, question marks as to how the Phillies offense will fare this year with an aging core of players.  Question marks as to whether or not Jimmy Rollins' contract will be worthwhile or not.  However, one of the biggest question marks coming into the 2012 season was that of fourth starter Vance Worley and if he would be able to repeat the success of his rookie season.
Worley had a fantastic rookie campaign, finishing third in NL Rookie of the Year voting after  posting an 11-3 record with a 3.01 ERA and a complete game in 21 starts.  But Worley had struggled a bit at times, especially against teams that had already seen him, bringing some to worry about his ability to play in the 2012 season.
So when Worley took the mound, all eyes were watching to see how the right-hander would fare in his first start of the season.  And while it was only his first game, all signs pointed to a good 2012.
Worley was aided by an early run from Hunter Pence who doubled in the first inning to give the Phillies a 1-0 lead and from there the Vanimal took over.  Worley allowed five hits in six innings, striking out five batters and walking just one.  He allowed just one run on a towering home run from Pedro Alvarez, but aside from that, Worley looked very dominant. He was also fairly efficient, throwing only 78 pitches, 52 of which were strikes.
Of course, the Pirates are not exactly the cream of the crop as far as MLB line-ups go, but Worley has to start somewhere and the Pirates are still an Major League team.
After Worley left the game, the score became a little bit more volatile, specifically in the seventh inning, when Juan Pierre hit a two-run single to give the Phillies a three run lead.  Later in the inning, the Pirates would score two runs of their own, cutting the lead back to one run.  After a brutal eighth inning, in which 28 pitches were thrown, the Pirates would eventually tie the game again, taking away the possibility for a win from Vance Worley.  The situation would just get worse for the Phillies, as David Herndon would allow a double to start the bottom of the ninth inning and eventually, Andrew McCutchen would single home the game winning run to end the game– and the series– in favor of the Pirates.
While losing two of three to the Pirates to start the season is nothing to be proud of, Vance Worley, and really all of the Phillies' starters, have looked very good.  This team is built for the long run–hopefully it just won't take so long to show.