Nobody would be complaining if you could win a baseball game without scoring.  If that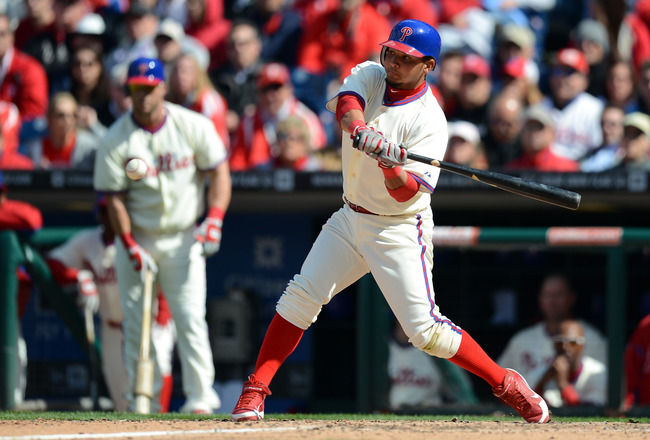 were the case, the Phillies would be set, near locks to make and likely win, the World Series.  Of course, it takes more than just pitching and defense to win a baseball game and because of that, the Phillies had started a less-than-great 1-3, scoring a total of eight runs in their first four games, four of which came in one game.  Needless to say, the near-dormancy had driven some Phillies fans to questioning the team's ability to score runs.  But after a 7-1 win against the Marlins and their ace Josh Johnson, some of those question may have been answered.
In typical Roy Halladay fashion, the ace gave up one run, his only earned run of the game, early in the second inning.  From then on he was lights-out, allowing two more hits and striking out three in five more innings.  The bullpen also did its job, throwing two perfect innings between Chad Qualls and Michael Stutes.
The Phillies' offense got involved before the bullpen was called in though, scoring five fourth inning runs, more than they had scored in any game previously.  The first three runs came from the Phillies' usual contributors– Polanco, Rollins and Pence– but the fourth and fifth came from rookie Freddy Galvis' first career double and second career hit.  The Phillies scored again the next inning on a Shane Victorino single, then again in the seventh inning on a Carlos Ruiz solo home run.  In total, the Phillies scored seven runs, driven in by six different people, so at the end of the day the only batters not to have RBIs were John Mayberry Jr., Juan Pierre and all of the pitchers and pinch-hitters.
Baseball season is 162 games long.  It seems like that has to be said every day.  This could have just been a fluke for the offense, capitalizing on a young pitcher who is having a rough start to the season.  It could have been a couple of timely hits that somehow were strung into a few runs.  But seven runs against a pitcher that some have called Cy Young material, coming from an entire line-up?  Especially after four very weak showings, this outing was nothing but great, whether it will last or not it can at least give the team and the fans some confidence for the next few days.  And who knows, this may eve be the beginning of an offensive revolution.  A fan can dream, can't he?